Appendix carry is one of the most popular concealed carry methods around, but you need a good, purpose-built appendix carry holster to utilize it effectively and safely.
We've tested and reviewed all of the most popular appendix carry holsters to separate the quality from the crap, and we've got a breakdown of each one below, including some pros and cons, and who will benefit most from each holster.
We have lightweight summer-time carry holsters for when you're wearing just a light t-shirt, and we have more involved rigs with mag patches and room for your weapon light. There should be something here for everyone.
Let's dive right in.
If you don't have much time for the details, check out the list below for the best rated Best rated Appendix Carry Holsters:
TOP 7 Best Appendix Carry Holster
Reviews and Buying Guide 2021
1. We The People IWB Holsters
Special
DISCOUNT
for
57CENTER
readers only :
15% OFF SITEWIDE
when checkout at
WeThePeopleHolster
CODE :
57CENTER
I actually have a We The People IWB holster of my own for my Glock 19, so I can say from personal experience: I like it a lot.
It's a pretty simple, straightforward IWB holster. It's made from hand molded Kydex to provide a custom fit for your particular firearm. It comes in custom molded versions for the most popular firearms, including versions that accomodate for common lights, optics, and lasers.
It also comes in versions for both left and right hand draw, as well as a ton of different color and print options.
And speaking of options, this holster is very adjustable. The repositionable clip has eight total positions to allow you to adjust the ride height and cant. It also features adjustable retention, with an audible click when you holster your weapon.
On a related note, the rigid kydex form makes it really easy to holster your gun. Similarly, the belt clip securely attaches to 1.5 inch belts to allow for easy draw.
The undercut trigger guard allows for a secure positive grip before drawing, while the open end accommodates muzzle devices. The holster also has a sweat guard that protects your gun from moisture.
This holster has a thin profile and is lightweight, helping with concealment. We The People also sells a holster claw that can be combined with the holster to help prevent printing.
This holster is good for appendix, strong side, cross carry, or behind the hip carry positions.
2. Blade-Tech Klipt Holster
First up, we have a solid contender for the best overall option, the Blade-Tech Klipt holster. This holster was designed in collaboration with Special Forces operators and is engineered to be an inside the waistband (IWB) holster overall.
It has a thin shell with an injection molded clip, so it can easily be an appendix carry, hip, or cross-draw holster. It's very low profile as well, so it's unlikely to print and is comfortable to wear.
The belt clip can accommodate a belt up to 1.5 inches in height, making it a good option if you want something that will work as a backup with a duty belt, or you tend to wear taller belts in general (particularly rigger-style belts).
It also has one of our favorite features, a full-length sweat guard. This guard runs all the way to the end of the slide at the rear and protects your firearm from sweat and skin oils while also protecting you from sharp edges on your firearm.
This is especially important for guns with aggressive slide serrations and even tall sights. That extra bit of protection does a lot to keep the holster comfortable, even when it's hot and muggy out. It's also more comfortable than some other options for larger folks, or those who typically find appendix carry less than comfortable on their stomach.
Overall, this is a great holster if you want a low-profile carry rig that works with a variety of positions, allowing you to switch things up based on what you're wearing or what kind of activity you're doing.
It's also great if you're frequently outside in warm weather, thanks to the sweat guard and the low profile design that disappears well under even the lightest clothing.
3. Blackhawk A.R.C. Appendix Carry Holster
Blackhawk is a well-known name in the world of holsters, and with good reason. They've built a reputation for quality at an affordable price point, and their ARC appendix carry holster does nothing but add to that reputation.
This is the most affordable holster on our list, but don't let that fool you. It's very well made and comfortable to boot. It conceals very well, and is one of our top options for deep concealment, especially if you have a small handgun like a Glock 43 or Ruger LCP.
It's also a very good choice for a pistol with a red dot as the back and top are very open and won't interfere with a micro dot at all. More and more people are running these red dots these days (and with good reason) so it's nice to see that compatibility.
The holster is contoured for comfort, and is made of an impact-resistant injection-molded polymer that is covered in a soft faux-leather that won't rough up your skin, and won't wear the finish on your slide as quickly either.
It's also reversible, meaning you can swap the clip to either side for carry either as a right-hand or left-hand draw, and you get a few different belt clips that allow you to adjust both the cant and the ride height so you can get something that's both extremely comfortable, and positioned for a smooth and easy draw.
Finally, retention is fully adjustable via the screws on the clip side, allowing you to further dial in the draw to get it where you want it to be.
4. Concealment Express IWB Kydex Holster
Concealment Express is another huge name in the holster world, and again with good reason. They offer a wide variety of holsters, but it's their IWB Kydex that offers the best appendix carry experience.
You have right and left-hand options, as well as a black or carbon fiber Kydex depending on what you want to go with, and a huge variety of extras including a soft belt loop kit, a tactical belt loop kit, and a claw attachment kit, so you really can find your ideal setup.
The trigger guard is undercut for an easy draw, and the full-length sweat guard and rear sight shield keep any and all sharp edges away from your skin, making this arguably the most comfortable holster on this list.
Everybody is different, and everybody is different, so not everyone is going to agree on which holster is the most comfortable, but I'm very confident in saying that if comfort is one of your top priorities, this is the holster for you.
That's not to say it isn't also just a very competent and secure holster, however. Far from it. Retention is very positive, with a nice tactile click when you insert the firearm, and the end of the holster is open to accommodate threaded barrels.
The holster will also easily accommodate suppressor-height sights, making this the best option if you frequently run a silencer on the handgun you use for carry. Unless you're John Wick, you're probably not carrying a suppressor around with you every day, but it is nice that you don't have to swap barrels when you want to carry your suppressor host as a daily carry gun.
5. Vedder LightTuck IWB Kydex Gun Holster
Next up we have the Light Tuck from Vedder holsters. Vedder is a relatively new company that has already made a big splash in the holster world, particularly among concealed carriers.
The Light Tuck is designed to be, well, light. It's very slim and very concealable, so it's another great option for deep carry, particularly in the summer when you're maybe wearing a light t-shirt. It's also a great option for carrying smaller guns that you don't want to add a lot of additional weight to.
After all, if you're paying for a slim, lightweight gun, you probably don't want to throw all of that out the window with a heavy, bulky holster right?
Retention is adjustable and the clip can accommodate up to a 1.5 inch belt. You also have the option for zero, reverse, or forward cant, meaning you can position your gun exactly where and how you want it for the optimal draw.
This also increases user comfort and makes carrying the Light Tuck a real joy.
6. CYA Supply Co. Base IWB Concealed Carry Holster
CYA Holsters (ask them what it stands for) is a veteran-owned outfit that does things a little bit differently than most other manufacturers.
For one, while they do use synthetic materials, they don't do a lot with Kydex like most other manufacturers do. Instead, they primarily use Boltaron, which is more durable, more resistant to impact, and more resistant to extreme heat and cold as well.
Because it's harder than Kydex, CYA has recessed and cut away areas around the slide release and safety catch areas in order to reduce wear and smooth out your draw. Also, like the Klipt holster above, the CYA holster has a full-length sweat guard to protect both you and your firearm, which is something we really like to see on an appendix holster.
Retention is great, with a very positive audible and tactile click when you insert the gun, which lets you know it's secure. You can also adjust this retention with the included screws, and dial in the cant as well to get your draw just right.
Finally, CYA has a number of colors and designs available allowing you to go as low or high-profile as you want with your holster (remember, no one is really going to see it thought). Also, while this is the left-hand draw version, they obviously do also make right-hand draw stuff.
That being said, if you're a leftie, this is probably the best purpose-built left-handed option on the market right now. And of course, if you're a rightie, they've got you covered as well.
7. Fierce Defender IWB Kydex Holster
Next up, we have one of the best options for carrying a spare mag with you, the Fierce Defender IWB holster. This has become a very popular style of holster lately, and for good reason.
The extra weight of the mag on one side does a lot to balance the holster and makes carrying a heavier doublestack handgun much more comfortable. If you're carrying something like a Glock 19, this is a really great option, especially if you're running a micro red dot.
Having a spare mag is never a bad thing either, particularly if you don't have to carry a separate mag pouch in addition to your regular holster.
The curved design of this style of holster makes it very comfortable, and easy to switch from an appendix to a 4 o'clock position depending on what you're doing, like sitting down for a while or driving.
The twin belt hooks keep the holster securely fastened, though they are a little bit of a pain to remove in a hurry. That said, rarely do you need to quickly remove a holster, so this isn't a big deal. It only takes a few extra seconds, and personally, I'd much rather have something that's secure like this over something that could fall off easily.
The clips are injection molded plastic, and the holster body is well-formed Kydex. As with all Kydex holsters, the body of this one is nice and thin so it's quite comfortable and, despite being a larger holster, unlikely to print.
I will say, holsters like this often aren't the most comfortable if you're a bit on the broader side, so you may want to try one out, or at least make sure you order from Amazon so you can easily send it back if you don't like the fit and feel.
8. PHLster Floodlight Universal IWB Holster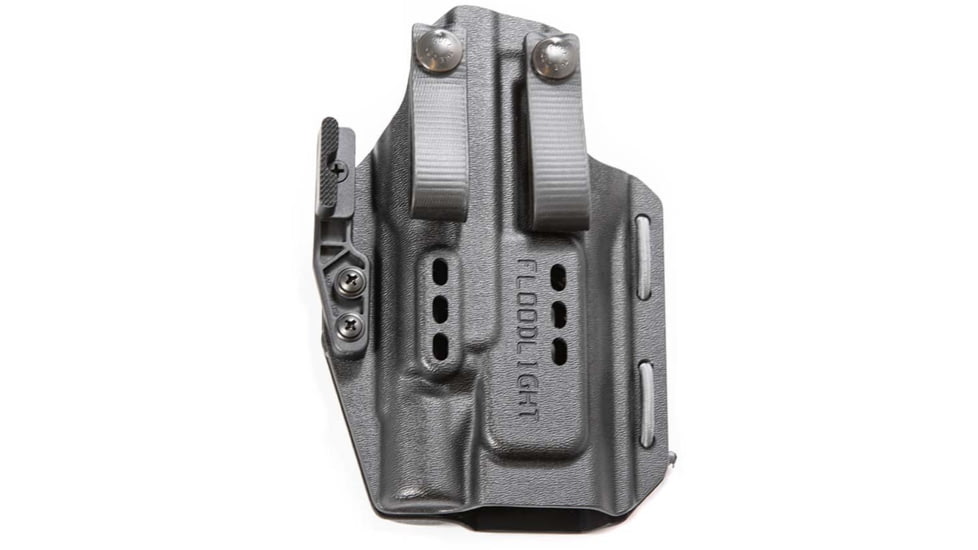 If you're looking for a holster for a light, we strongly recommend the PHLSTER Floodlight holster. This is a light-bearing holster that actually uses the light for friction retention, rather than the trigger guard or slide like most holsters.
This allows you to use the same holster and the same light with a variety of different firearms, making this a good universal holster for those who have a lot of different carry options. The deciding factor is just whether or not you have the right light.
The SureFire X300 and the Streamlight TLR-1 are the two lights that are supported right now, and PHLSTER has plans to add holsters that support others coming. If you have or are willing to buy one of these outstanding lights, then this is a really solid option that you can rely on to work with a lot of different firearms.
The holster itself is made of black, green, gray, or tan plastic, and the two sides of the shell are held together with shock cord that allows you to adjust the retention to really dial in your draw and get it exactly where you want it.
We also really liked the clip, as it's easy to remove but still stiff enough to feel secure, even when running or climbing something like a ladder. Never once did the holster feel like it was going to work its way loose, or slide to an uncomfortable position.
All in all, this is a good appendix carry option if you run a light, particularly one of the awesome lights above. And you should feel confident buying either light if you don't already have them, as these are the two industry leaders when it comes to pistol lights.
Final thought
You are probably aware that AIWB concealed carry is an ever-growing trend, followed by myths, rumors, and exaggerations.
There are holsters specifically made for appendix carry position, but dual-purpose IWB-AIWB holsters from reputed manufacturers are also suitable.
Depending on the material, you can choose leather, polymer or Kydex and avoid nylon-made holsters.
Some are ambidextrous, allowing you for right- or left-hand use, and some holsters come with two belt clips, but all of these features are up to your preference.
While market offer number of a flimsy or cheaply made appendix holster, much responsible for such a bad reputation, you should concentrate only on quality products handled in similar guides like us.
Megan Kriss is an avid recreational shooter by day, and writer/editor by night. She has an extensive linguistics and writing background, and has written for everyone from Allstate to celebrity plastic surgeons. She also has experience in international affairs and political policy analysis.